Just to review the last few summers of Warped Tour...
Summer 2008 : First time, we had no idea what we were getting into. A lot of giddyness and typical teen-groupie 'tude, but we met some of our musical heroes (Tom DeLonge of Angels and Airwaves/blink-182, Travie McCoy of Gym Class Heroes, We the Kings, All Time Low and, at the time for me, Jonathan Cook of Forever the Sickest Kids)!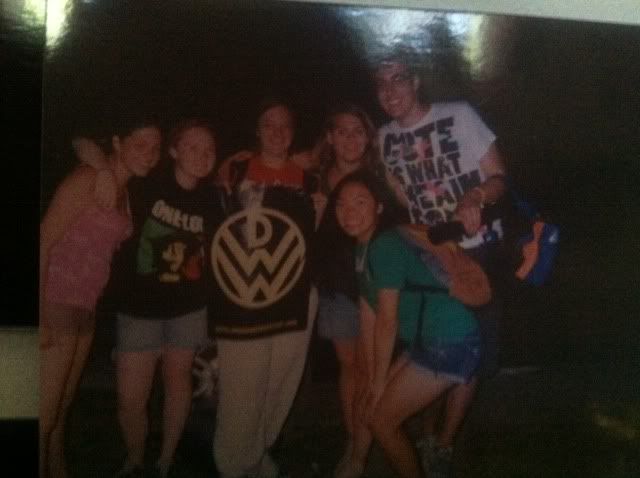 Summer 2009 : Same crew, and with a summer under our belts we knew exactly what to look for and how to handle it all! This photo is with a poster from a Canadian band who was relatively unknown to us at the time called Down With Webster. When all the bands and tents were packing up, we stole all the DWW posters possible! I crowd surfed for the first time during the 3OH!3 set and we saw The Maine do sick nasty things with Def Leppard's "Pour Some Sugar on Me".
Summer 2010 : We added a few more people to the crew but they drove separately so they weren't in the picture. I saw We The Kings again, and was practically spat on by Tyson Ritter's singing during the All-American Rejects. There were more that I watched but those moments stand out most at the moment.
Summer 2011 (on Tuesday) : Our group ever-evolving, but Cassie, Bianca and I are still veterans :).
I wasn't really going for any band in particular this year (although seeing 3OH!3 for the fourth time was great), but we still had a blast. Oh, except for the fact that I forgot my ticket and was sizzling out in the parking lot for the first three hours o_O. I'm quite absentminded at times; I was annoyed but not too surprised that it happened. However, the fun of the rest of the day made up for it.
Yup, we stumbled upon some new bands, snuck into Darien Lake Amusement Park at the end of the concerts, indulged our sun-stoned, starving selves around midnight at Denny's and took a group picture-- with me still in the same position (intentionally).
My friend Jen had her first Warped experience, and she was able to meet one of her musician crushes, Stephen Jerzak. I just love this photo because it looks so natural, like that he's still genuinely happy to meet every one of his fans. That's one of the pleasures of this tour and interacting with groups who haven't hit it too big yet.
These pictures (via Buffalo News and Buzznet) were of
Bad Rabbits
(the group on the left) and
Foxy Shazam
(right), who both played on the Skullcandy Stage. I wandered over to
Bad Rabbits
because they were bouncing all over stage, the singer had a magnificent falsetto and the crowd was dancing-- and they're totally my kind of group! Their music was like modern soul and funk with some punk and R&B influences. I was stoked when they told me afterwards that being from Boston, they've actually played at my school concert venue before!! I'm trying to rally them back next spring for another performance :). And
Foxy Shazam
, I can't deny, they are pretty odd but I was intrigued by the name and held down to their set too! I can't describe their sound as well, but there are big choruses and a trumpet player and lots of energy. They are certainly worth checking out.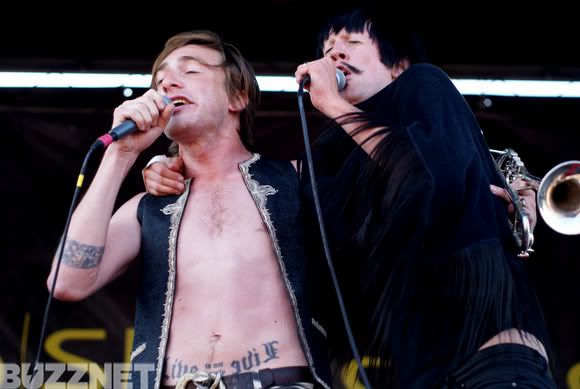 It wasn't awful this year, but it wasn't anything mind-blowing. We'll see if I end up going next summer if the line-up is really dynamic, though for now it was simply another beautiful sunset across the park as Warped Tour packed up and moved onto the next location.
Whoo, and I'm going back to NYC tomorrow to pick up my French student visa, cheers for two-day road trips!
I hope you're all surviving this summer heat with grace.
Listening: Arcade Fire's Grammy-winning album, The Suburbs